Precision Concept Potential Reveal at Pebble Beach?
Three years ago, Acura dropped the curtain on an amazing concept vehicle, and went beyond turning heads to breaking necks; the Precision Concept, unveiled at the 2016 Detroit Auto Show, has been a driving force in the elegant but intense redesigns of the Acura lineup, most notably seen in the new RDX. Yet, the Precision Concept itself has been nowhere to be found since, tucked away in the design labs of Acura. Rumor has it though Acura is ready to tout a production ready sedan concept at the Pebble Beach Concours d'Elegance in California; could this be the return of the bold Precision Concept?
Supposedly, the concept ready to be shown at Pebble Beach will be the successor to either the RLX or TLX, which last saw revisions in 2013 and 2014 respectively. The design of this prototype sedan seems to stem from the Precision Concept as well, carrying over design features such as the four-door coupe body style, new headlamp and taillight shapes, as well as stretched out air intakes. Not many more details have been released, but looking at the Precision Concept, a couple of other design decisions stand out: the outspoken 22" wheels sized to intimidate, the side surfaces with radical amounts of sculpting, and a lowered stance speak almost to a GT Touring style of vehicle.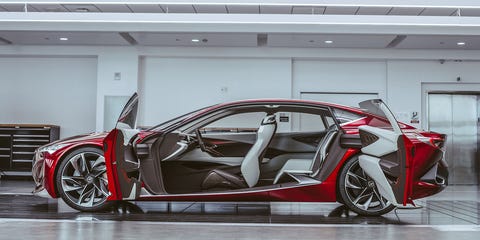 From an interior standpoint, we could see anything from the current innovations showcased in the Acura RDX, to an interior carryover of the Precision Concept. The Precision Concept at the Detroit Auto Show in 2016 showed a racing-inspired steering wheel with paddle shifters and ultrathin rear seats (again, designs commonly seen in GT Touring vehicles). However, speaker grilles crafted from wood are a carryover that many shouldn't expect to see. Other interior features include an ultrawide, curved center infotainment screen, operated by a 'floating' touchpad on the center stack, in addition to a driver mounted digital display that can likely incorporate anything from the obvious speedometer to GPS and music selection, as well as safety features.
Fingers crossed the choose to carry over everything from the Precision Concept, but Acura customers can at least be excited that the design influences which have made the new 2019 RDX successful will begin to bear fruit with new vehicles and redesigns of other models coming soon!